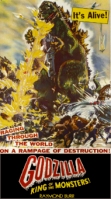 The somber, dark feel of this movie makes it the only really scary film of the lot, and therefore the best. Godzilla only attacks at night so the in the darkness he seems even more real and frightning.
The story follows reporter Steve Martin as he is layed over in Japan. When a group of ships mysteriously begin to disappear, Martin investigates and finds a group of islanders who say that it is the work of "Godzilla", a terrible monster from the local mythology. Soon Martin finds this to be all to horribly real as The monster walks from Tokyo Bay and lays waste to the city.
It seems nothing can stop this monster which was born from the folly of man's misuse of atomic weapons. Only renouned scientist Dr. Serizawa has the answer, but he deems it too dangerious to use even against this menace.
This movie was the inspiration for countless monster movies to come and is the standard by which they are all set.
It's a shame this wonderful movie had to be spoiled with cheaply shot scenes of Raymond Burr, which tend to spoil the mood and break the flow of the story. I would love to see the orignal Japanese version of Gojira just to see this one the way it was originally intended.
---
CREDITS
Gojira (1954)
Released in U.S. as Godzilla, King of the Monsters (1956)
CAST
Dr. Yamane......................Takashi Shimura
Hideo Ogata......................Akira Takarada
Daisuke Serizawa.................Akihiko Hirata
Emiko Yamane.......................Momoko Kochi
CREW
Director...........................Ishiro Honda
Screenplay..........Takeo Murata & Ishiro Honda
Original Story...................Shigeru Kayama
Special Effects..................Eiji Tsuburaya
Music.............................Akira Ifukube
Running Time: 98 minutes
U.S. VERSION
Released by Transworld
Director............................Terry Morse
Steve Martin.......................Raymond Burr

Running Time: 80 minutes
[Next Movie]